What are the best Fishing Charters in Playa del Carmen?
If you are staying on Playa del Carmen, and you want to book a Fishing Charter for a day, you won't find any tours; that's because fishing in Playa del Carmen is not accessible. Instead, our customers prefer to go deep sea fishing in riviera maya where the big fish are - Cozumel.
Lying just on the coast of Playa del Carmen, Cozumel has on of the most exceptional fishing grounds in the world.
Cozumel is an island known for its crystal clear waters, the calm of the sea and, above all, the excellent fishing - It houses lagoons and reefs that are abundant with big fish. You will find species such as Sailfish, Marlin, Wahoo, Mahi-Mahi, and Tuna.
What to look for in a Riviera Maya Fishing Charter company?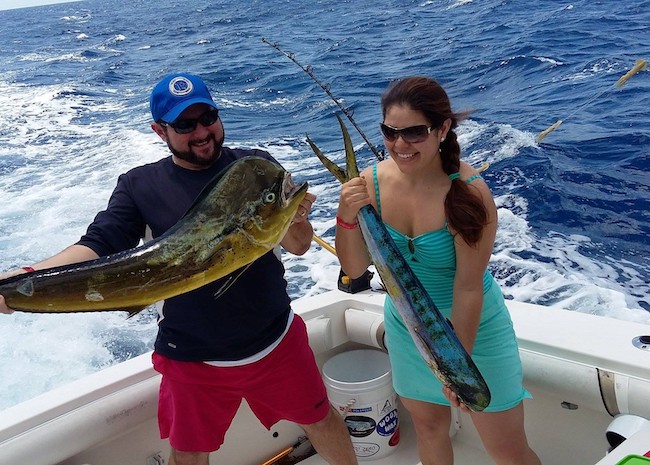 Before you jump into the water, you must make sure that your Fishing Charter has everything covered. So you can focus on catching the big game.
The crew must provide you with all the necessary fishing equipment, including rods, reels, tackle, fresh bait, and snacks. Of course, the cold beer and the water cannot miss.
Another important thing is that, as a tourist, you and your group cannot hold a fishing license. Therefore the crew should take charge and have a valid license for fishing.
They must also provide you with transportation from the marina to your meeting point (hotel, pier). Experienced English-speaking captains and mates should also operate the vessel to ensure your safety.
They must also know the right areas to search for good fishing. For the fishing method, they should have at least six lines in tow at all times to maximize the chances of catching a big fish.
If you don't want to get wrong on this, take a look at our fishing trips. We take care of everything - with no worries for you and your group. You will be not disappointed.
What is the best Cozumel Charter for Playa del Carmen visitors?
Deep sea fishing near playa del carmen has been providing fishing trips for more than 30 years. Our team offers tours of bottom fishing and deep sea fishing, but they can fit your fishing needs.
Fishing in Cozumel is one of the most exceptional experiences of your vacation while you are on the island. Fish close to Cozumel is by most experienced charter captains as the "Billfish Capital of the World."
Don't keep waiting. Book now your fishing trip and relax, that fishing in Cozumel will be an unforgettable experience. Also, the most likely is that you will catch the big game.